by dotFIT experts
Cartilage is slowly lost in joints with injury and age (most noticeable between 50 and 60 years of age). Because cartilage acts as a cushion between bone joints, its loss causes friction, pain and stiffness.  The ingredients in Joint Flexibility Plus™ have been shown to support cartilage and joint and skin health. Additionally, the specific ingredients in this formula have been shown to be well absorbed, tolerated and safe. Proper use of this product may enhance healthy cartilage function and
Provide lubrication
Retain water around the joint
Delay structural degeneration of joint tissue
Why take this product?

A major study demonstrated that people with moderate to severe osteoarthritis found significant pain relief by supplementing with glucosamine and chondroitin. Recent studies have shown that a new combination of ingredients perform significantly better than glucosamine and chondroitin. The new and improved dotFIT® Joint Flexibility Plus supplies these compounds in the forms and amounts used in this new published research to support healthy joint tissue and function. 


Who should take this product?

dotFIT Joint Flexibility Plus is suitable for:
Individuals who want relief of mild joint discomfort with far fewer side effects that occur from chronic non-steroidal anti-inflammatory drug (NSAID) use such as aspirin or ibuprofen
Those interested in a longevity program
Suggested Use
As a dietary supplement, take two (2) capsules daily, preferably one (1) in the morning & one (1) at night before a meal. For optimal results take two (2) capsules in the morning and two (2) at night before a meal or as directed by your health care professional.
Unique Features

Contains no other added ingredients so you may take other products (multivitamin, antioxidant) without worrying about reaching excessive levels that may be detrimental over time.
Dosages and compounds are in the precise amounts used in research that have shown to improve mobility, joint comfort, and knee-joint strength.
Manufactured in a FDA registered facility, in compliance with Good Manufacturing Practices (GMPs) exclusively for dotFIT, LLC.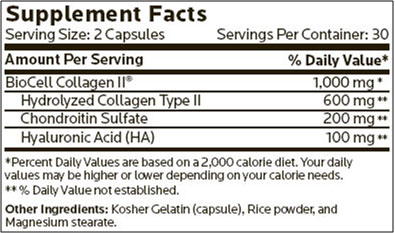 Warning: Do not use this product if you are pregnant, nursing, or contemplating pregnancy. Consult your physician if you are taking any over-the-counter or prescription medications or if you are allegic to shellfish. Do not use if safety seal under cap is broken or missing. Store in a cool, dry place. KEEP OUT OF REACH OF CHILDREN.