Maximize Workouts with FirstString

by dotFIT experts
FirstString™ is the perfect pre- and post-exercise meal. It contains the ideal blend of carbohydrates, protein and fat needed to
Maximize workouts
Increase strength or size
Refuel muscle energy stores  
Enhance performance and competition
In addition, this formula meets the NCAA guidelines for college athletes and now has the highly prized "Certified for Sport™" seal of approval from NSF.


Why take this product?

dotFIT™ FirstString makes it easy for all athletes to take advantage of various "metabolic windows" throughout the day. During these windows, your muscle cells become highly receptive to those nutrients that are needed to maximize recovery, increase protein synthesis and improve overall training quality and performance.

Proper timing and amounts of nutrients can trigger a hormonal state that can reduce muscle damage while increasing muscle building. The ideal hormonal environment for recovery and muscle building is created when carbohydrates, proteins and fats are supplied in proper ratios, forms and at specific times before and after training. This product delivers these nutrients in the amounts that have been shown in numerous research studies to enhance training results. dotFIT FirstString takes the guesswork out of pre- and post-training meal planning for all youth and college athletes.


Who should take this product?
dotFIT FirstString is suitable for

All athletes, especially youth and collegiate athletes
Anyone looking to gain muscle or size 
Children to help maximize  athletic development and overall growth potential
Unique Features
Contains Aminogen for more complete digestion, absorption and retention
Does not contain aspartame and is low sugar
Ideal carbohydrate mix to help maximize protein synthesis 
Sophisticated ideal blend of the highest quality fast and slow acting proteins
Not spiked with unnecessary nutrients
Works in synergy with other dotFIT products so you can maintain a safe and optimal range of total nutrient intake
Proprietary flavors that are more appealing than other products
Manufactured in a FDA registered facility, in compliance with Good Manufacturing Practices (GMPs) exclusively for dotFIT, LLC
Suggested Use
Over 200 lbs. add/mix four (4) scoops (one serving) of First String with 16-20 fl. oz. of cold water/fluid
Under 200 lbs. add/mix two (2) scoops (half serving) of First String with 8-12 fl. oz. of cold water/fluid
Timing:

1st Serving:  30-40 minutes pre-workout
2nd Serving:  Post-workouts or immediately following training
3rd Serving:  Snack or Bedtime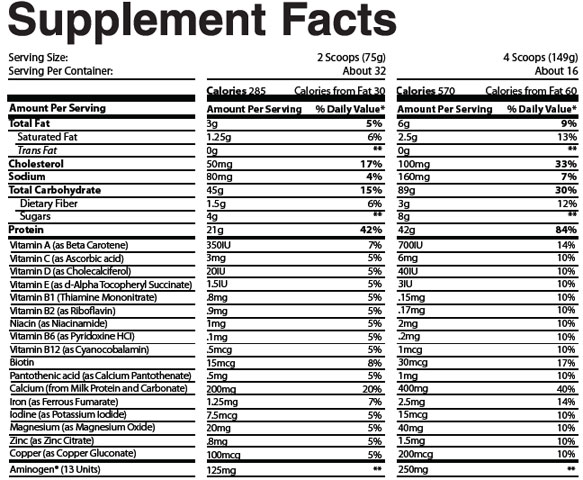 INGREDIENTS: Maltodextrin, Protein Blend (Whey Protein Concentrate, Calcium Caseinate,
Micellar Casein, Whey Protein Isolate), Fat Blend (Sunfower Oil, Medium Chain Triglycerides and Safflower Oil), Natural and Artifcial Flavors, Gums (Carboxymethyl Cellulose, Xanthan Gum), Vitamin and Mineral Blend, Aminogen®, Sweeteners (Sucralose, Acesulfame Potassium).
Contains Ingredients: Derived from Milk and Soy.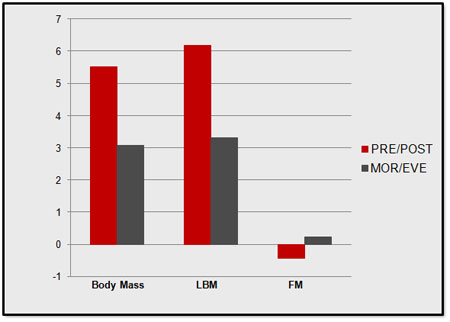 Figure 1: Training results from 23 experienced recreational bodybuilders resistance training for 10 weeks with all things (diet, supplements, training, etc.) equal except the addition of pre/post feedings. Significantly greater gains in body mass, LBM & strength were realized for the pre/post feeding subjects with a concurrent reduction in fat mass.
Reference: Cribb PJ et al. Med Sci Sport Exerc. 2006 Nov;38(11):1918-25.